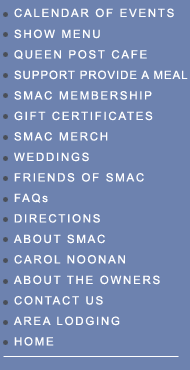 So you wanna attend our
Annual Christmas Craft Fair ...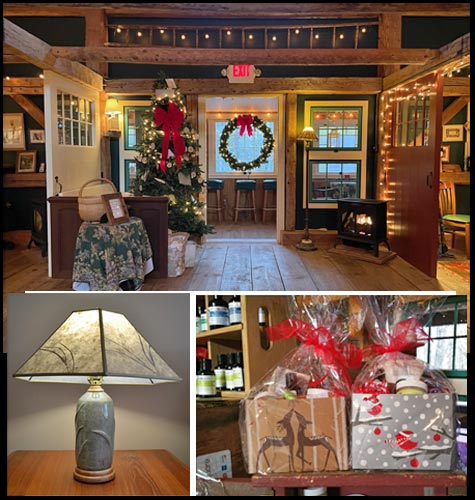 Our Halls are "decked" alright!! (photos above from previous fairs)

Two beautiful halls full of some of area artisans and crafters. These are the prettiest Christmas rooms in the Valley. We are proud to announce once again our annual Christmas Craft Fair. Santa will be parking and The SMAC Box Office will be open for all kinds of gift ideas like concert tickets deals and gift certificates. The Bar will be open in the Queen Post Cafe for some Christmas cheer and The SMAC Kitchen will have a nice brunchy/lunchy menu available all day. C'mon by and get all yer shopping done! It's a Christmas Tradition!!
DATE: Sunday, December 3, 2023
PLEASE NOTE: We do not accept credit cards on site for Food or Beverage... so when you come to the Craft Fair bring cash or checks!
TIMES: 10:00 am - 3:00 pm
CRAFT FAIR DINING:Serving from 10 to 3:00.
Anything from omelettes and waffles, to burritos, salads, soups, and desserts. Table Reservations are available and suggested in our pretty Maine Hall, both barn balconies, and our four season porch. Make sure you let us know if you can do stairs or tall chairs. You can also grab lite bites at the bar for some walk aroud snacks and bevis.

For table reservations, email us.




ADMISSION: $2.00 at the door ... kids under 12 FREE


IF YOU DO NOT GET A CONFIRMATION AFTER YOU ORDER
PLEASE CHECK YOUR SPAM OR GREY MAIL BOX
( some mail programs don't like us !)


CONCERT GETAWAY PACKAGE:


Need a place to stay?

Stay at one of these selected nearby inns and get perks like show tickets, a roundtrip shuttle to the show, a cozy dinner, a country breakfast and more. All these properties are great and have something special to offer. Check them out and make a night of it! (Prices vary)
Click any property for package details.
Wanna Be A Vendor?
If you are interested in becoming a vendor for this fair, please email us and pitch your crafty items and booth set up and we will get back to you if we think you will be suitable for this year's event.

The space fee is $100.00 and you will also receive a 50.00 gift certificate from us as a thank you for being part of our event.

We are no longer accepting applications for this December Craft Fair but keep an eye out for Mother's Day 2024.

Arts Center Box Office ... Tickets, gift certificate, SMAC memberships, logo items and Carol Noonan cds are all available for purchase by check or credit card at the Box Office. We would love to talk to you all in person, but we have a small staff, so our physical box office is open on a limited basis. If you would like to visit us or come up in person to buy a ticket please call or email us first to make sure we are open. To contact us, email is best or call and leave a message. You might actually catch someone in person!!

Questions?
Please call 1-207-935-7292 if you need assistance... someone will return your call promptly.