In 1995, heavy hitting critic Steve Morse wrote, "Carol Noonan seems to exist beyond time.....she sounds at times like a 90's Sandy Denny, soaring into the heavens, as she hits you in the heart". Now described in this century as a "brilliant modern folk singer", by renown critic Dave Marsh, or" Her beautiful voice offers the consolation music is supposed to provide"...... by Playboy magazine, Maine singer songwriter Carol Noonan, continues to win the praise of critics year after year.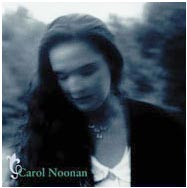 She is known foremost as a contemporary singer-song writer, but is also known for her haunting renditions of Irish, English, and American traditionals.

After a decade of commitments to record labels, Noonan releases her albums on her own label, Noonan Music, at www.carolnoonanmusic.com. with tremendous success. She has found a comfortable home on National Public Radio and and has sold thousands of albums nationwide, thanks to the loyal support of her fans. Noonan has taken a unique, but still grass-roots approach to selling her music, solely on the internet, but also by using the honor system, with a toll free#. Her customers call 866-CAROLCD, and give her the order, she fills it, writes a personal note of thanks, and slips in a bill for the music. People have really responded to her personal touch and her trust. Her fans seem to relate to a simpler time when music was pure, and a deal was sealed with a handshake. Noonan likes to keep the music business between herself and her fans.

She has won such accolades as best Female Vocalist from the Boston Music Awards, and had rave reviews from the likes of NPR's Weekend Edition to the unlikely pages of Horse and Farm and Playboy Magazines. Locally, she and her husband a fishing net builder, have been featured on countless New England tv news spots, and Boston's t.v. magazine, "Chronicle". She has also had a feature story in Yankee Magazine, along with twice having a story run on the wire nationally by the prestegious Associasted Press.

Her voice has been compared to a young Joan Baez, or a voice from ages long ago. But if you must compare her to an era, close your eyes, and slip back into that time when Eminem was a candy and fruit roll ups were only available to astronauts...there you will find the voice of Carol Noonan.
.........Carol Noonan respcts all the right traditions of Englsih and Irish folk music with her soulful quaver, reminiscint of Sandy Denny..........her beautiful voice offers the consolation music is supposed to provide. Playboy Magazine
......Brilliant modern folk singer, Dave Marsh (Bruce Springsteen biographer)
Somebody's Darling Reviews (latest album)

" Carol Noonan's voice is scintillating... it illuminates songs and words from a bygone era that are, unfortunately, as timely today as ever."
Ned Wharton Producer/Director NPR's Weekend Edition Sunday
"It is a testament to Carol's writing ability that the originals on 'Somebody's Darling' mesh seemlessly with the traditionals. This is songwriting for the long haul. These songs are sad, yes. But delivered in Carol's voice, they stir and inspire the soul."
Rob Reinhart/Acoustic Cafe
"No one hypnotizes quite the way that Carol Noonan does. She's a deeply honest, soul-piercing singer whose latest album is an exalted trip into a minefield of emotions.'' -
Steve Morse/Arts Editor Boston Globe